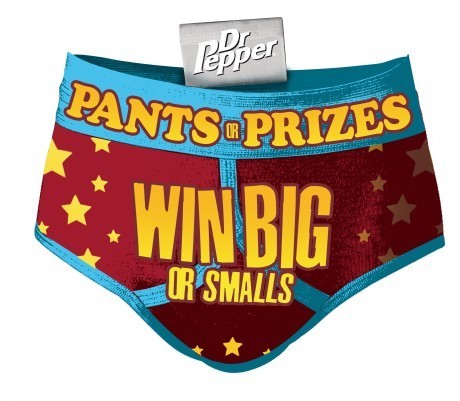 Generating a high number of social and media conversations and improving the demand for one's product while even breaking a guinness world record…and as the icing on the cake, winning an award for the best sales promotion led campaign of the year 2012. Sounds like impossible? It's possible!
In 2012, Dr Pepper launched the integrated marketing campaign "Pants or Prizes"which was meant to be a huge success. Concerning the sales promotion component, Dr Pepper sold special drink packs in stores. By texting the unique codes on promotional packs to a certain mobile number, the customer could win a prize such as e.g. an HDTV..or a pair of over 400,000 Dr Pepper underpants ! While those prizes were the extrinsic value for the customers and got them engaged, there was an intrinsic value to be added as well. Fans of the Dr Pepper Facebook page could add a branded pants graphic to a photo of themselves and upload it to the Dr. Pepper « Hall of Fame » online gallery.
All in all, this Dr Pepper franchise building promotion definitely increased awareness and knowledge of the brand and might have improved the image of the brand as well – since the customers actively participated in the activities the campaign provided. It's an example of a creative and funny sales promotion campaign that successfully addressed customers.
http://www.youtube.com/watch?v=XfqCbMIlBhk
Carmen Mattich, 10078435, COMM335-Section 001, direct, promotions, campaign