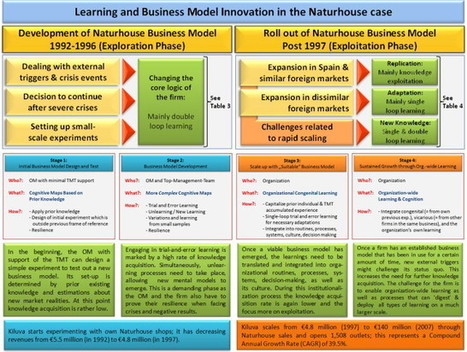 Ce tableau est la synthèse des travaux d'une étude sur l'entreprise Naturhouse qui décrit les apprentissages faits au sein de l'entreprise. Ces apprentissages concernent la création d'un nouveau business model et procèdent d'une approche essai/erreur. La période observée s'étale de la genèse du concept jusqu'au déploiement final.
L'article montre notamment que l'approche essai-erreur n'est pas réservée à certaines phases du développement. En revanche, le niveau d'apprentissage atteint par cette approche trial-en-error sera différent suivant les phases (exploration ou exploitation).
Lien vers l'article :
http://bit.ly/2aCNAK3
Références complètes de l'article :
Sosna M, Trevinyo-Rodriguez RN and Velamuri SR (2010) Business model innovation through trial-and-error learning: The naturhouse case. Long Range Planning 43(2–3): 383–407.