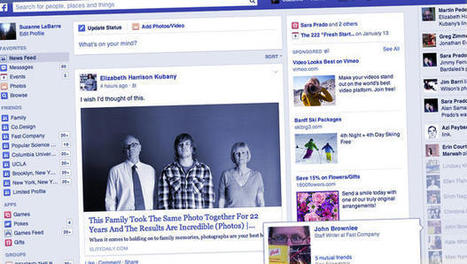 The change is subtle but its message is clear: Facebook has entered the news business.
It's no secret that Facebook is changing what appears in your feed dramatically. Whereas memes used to rule supreme--making basically anything shared by George Takei go viral--Facebook has reweighted its algorithms to recognize higher quality stories and showcase more news to its users. And publishers, Fast Company included, have seen meaningful gains in Facebook referrals because of it.
Now, Co.Design has learned that Facebook is actually taking its dedication to news a step further by building the traditional feel of newspapers into the design itself. Facebook appears to be experimenting* with a serif font for news headlines--a long-time favorite of the newspaper industry for body copy. Now that might not look like a huge shift to the average person, but it's a jarring change to any typography nerd, given that web companies have traditionally preferred the smoother lines of sans-serif fonts (think Helvetica) to the ornamental edges found in serif fonts (think Times New Roman)....
Via
Jeff Domansky