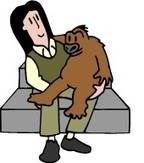 If you failing in your efforts to delegate tasks effectively, the reasons can probably be found, by examining the way in which you undertake the delegation process.
Ineffective delegation is often evidenced by the monkey ending up back on your back, after a due lapse in time, with the task unfinished.
This excellent article, outlines three simple steps you can take, to ensure that when you delegate, the monkey leaves the room never to return.
Via
Daniel Watson