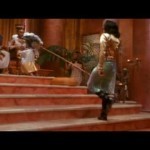 It´s a good Movie review and then i sit here with mixed feelings.
Thor has become "it's all about the Hammer" thing. I don't like that. It's like if King Arthur was all about the sword Exalibur. Maybe some day somebody will make a real Movie about Thor as my people knowed him many years ago. There are so many legends and stories in the mythology that could be used in great ways with all the technics we have in today's movie making.
THAT would be a movie i would love to see. @safegaard
RT @meedan_kewl [Video] Thor Movie Review (Starring Chris Hemsworth, Natalie Portman, and Anthony Hopkins).