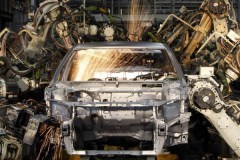 Heading into the 20th century, America was a predominantly rural country. Roughly 40% of the nation's labor force toiled on farms alongside 22 million work animals. One hundred years later, fewer than 2% of U.S.
Read more: http://business.time.com/2012/09/27/can-robots-bring-back-manufacturing-jobs-to-the-u-s/#ixzz27hDa6tUh
This article contains an honest assessment about roboticization of the workforce: "But the fundamental problem of our age is figuring out how do we distribute the gains of this efficiency in a way that everyone can get a decent piece of the pie. Baxter won't solve that."