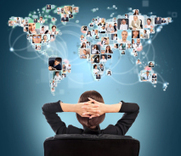 Throughout 2012, video marketing for B2B businesses undoubtedly showed an upward trend in both effectiveness and popularity, and most industry observers expect this to continue into 2013 and beyond.
Here are a few relevant findings from respected industry reports and trends to back up this claim:
The 2012 B2B Demand Generation Benchmark Survey found that video was the second most popular type of content used across channels.
In another study, B2B Content Marketing: 2013 Benchmarks, Budgets, and Trends — North America carried out jointly by MarketingProfs and the Content Marketing Institute, it was found that video had the largest increase of any content marketing tactic in 2012, jumping by 70 percent from an already hot 54 percent increase in 2011.
Findings from Searchmetrics could partly help to explain this trend. They found that, of all content included in Google's general search listings, video appeared most frequently, being displayed in over 70 percent of search results.
Via
Russ Merz, Ph.D.