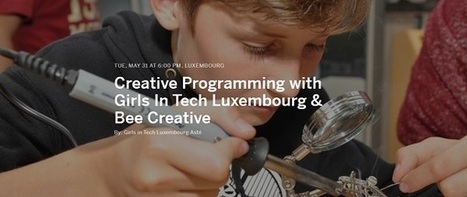 As part of European Maker Week, Girls in Tech and Bee Creative will be holding a creative programming workshop and a tour of the Creative Studio of BASE 1, one of the 6 new maker spaces for youth available in Luxembourg.

From 18:00 to 20:30 on Tuesday 31 May 2016, participants will be able to discover the educational possibilities offered by a Maker Space and how it fosters creativity, particularly for children and teenagers. The event will be a family activity and participants are invited to bring their child with them (minimum age: 10).

The activity will include a tour of BASE 1's Creative Studio, followed by a Q&A session. A creative programming workshop will enable those registered to start designing and programming their own Sphere Ball, a small robot ball that will be able to avoid obstacles and look for light to charge its batteries.

Entry to the event is free but requires prior registration here. The event will take place at Forum Gesseknäppchen, 40 Boulevard Pierre Dupong, 1430 Luxembourg.
Learn more / En savoir plus / Mehr erfahren:
https://gustmees.wordpress.com/2014/08/20/maker-space-a-new-trend-in-education-and-a-big-responsibility/