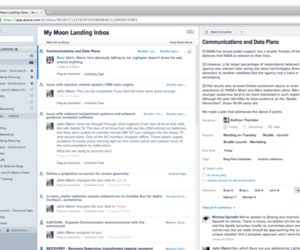 Facebook co-founder Moskovitz wants to kill email:
"We think email is becoming a counterproductivity tool," Asana co-founder Justin Rosenstein told me yesterday. "Each email is an isolated random string of text without any context"
He is not alone... @buzzstream, @relenta, @Nimble etc
Asana's Inbox looks like your Facebook News Feed, except without all the pictures, and without all the stuff that isn't deliberately shared with you. Inbox contains updates to tasks, comments, due date changes, and other status updates people would normally reserve for email. If you're on a task / thread you're not interested in, you can easily unfollow it. Instead of using email threads, you communicate by commenting on tasks. Each response from a group member is at its basest element just a reply-all message, and if a member of the task isn't using Asana, they're sent emails they can respond to. These responses are instantly threaded in to the conversation on Asana.
Read on: http://j.mp/LEKTIc