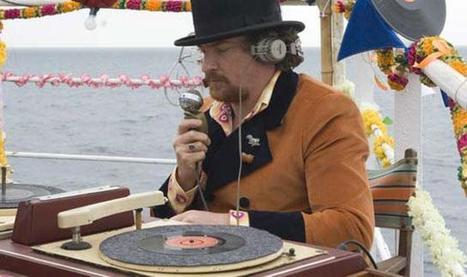 (About Australian community radio, but applicable to the US nonetheless...)
May 16, 2013

Homespun local radio provides a grassroots cultural, social and educational contribution to the fabric of our communities that you cannot put a price on... And yet, the sector has been left in the cold by the Federal Government. In the freshly delivered 2013 Budget, community radio was denied the $1.4 million in funding needed to help community stations like 3RRR, 4ZZZ, RTR, SYN, 2SER and FBI meet the cost of transitioning to digital broadcasting. Now the future of community radio is up in the air, with some stations facing the very real possibility of having to switch off services. Melbourne musician and broadcaster Tim Shiel illustrates the necessary and vital role the sector plays in this heartfelt love letter to community radio...
---------------------------------------------------------------------------------------
It's an understatement to say that community radio has been kind to me. Coming out of high school, obsessed with music and possessed of a voracious appetite for consuming every bit of musical knowledge available to me, I scanned the radio dial for a station that could keep up with me, and found 3RRR - an 'independent' radio station that, I was soon to learn, was almost entirely run by volunteers. Its broadcasters (also volunteers) played whatever they wanted to, from whatever genre and from whatever era. They went to great lengths to contextualise and demystify the music they were playing, spoke with a degree of respect and thoughtfulness I'd not heard on radio before, and crucially - as I was an aspiring bedroom musician myself - they seemed to give particularly generous airtime to local musicians. Melbourne's live music scene was rich and diverse; growing up in the outer suburbs, I'd had no idea.

Community radio seemed like a revelation to me - I thought that music was a thing that happened on the other side of the world, in big cities, and that culture was a thing that happened in museums and art galleries and not in my own backyard.

Not long after this I found myself on the rooftop of the 3RRR studios, watching Cut Chemist and Jurassic 5 perform live-to-air. A suburban boy on his first trip to the wilds of Fitzroy and somehow I'd found myself right in the inner sanctum of a lively arts and music community. I was surrounded by beards, tattoos, checked shirts, families, prams, friends. A motley crew indeed, but somehow everyone seemed to know each other, or at least acted like they did - they approached each other with mutual respect and openness. It was bewildering. How could I possibly have stumbled (quite literally) into the heart of Melbourne's music scene, simply through a lucky turn of the radio dial? Somehow I shook Cut Chemist's hand. I was in no doubt as to the power of community radio.

A few weeks later I'd signed up to a training course at my local community station out in the northern suburbs, Plenty Valley FM in Mill Park to be exact, and soon after I was on air, wedged in the grid between the jazz hour and the weekly ska show. My show's playlist of electronic music drew equally from the increasingly fertile playground of the blogosphere, and the stack of local CDs that arrived to the station each week, apparently out of thin air.

Melbourne's collective musical output was staggering but I devoured it, internalised it. Mill Park had never heard a radio show so visionary, so ground-breaking, or so I told myself. And every hour on the hour, I announced the weather! On the few occasions over summer that the fax machine in the corner of the studio whirred and spat out a sheet, I relayed emergency bushfire warnings with whatever gravity I could manage - realising as I did, that however few, there were people in my neighbourhood who relied on our station for access to this information, that could save their homes and/or lives.
More here: http://www.pedestrian.tv/features/music/community-radio-a-love-letter/00ade0b9-c6ed-4079-aff1-17acb96690be.htm