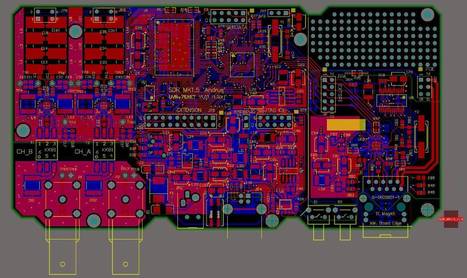 SDR MK1.5 Radio 'Andrus' is a shortwave Receiver covering 5KHz to 30 MHz with Network Interface. It is based on the National Semi LM97593 Dual ADC / Digital Tuner / AGC chip.
Datasheet here : http://www.national.com/pf/LM/LM97593.html#Overview
Here are some of its characteristics :
-5kHz to 30MHz frequency range
-0.02Hz tuning resolution
-123dB total dynamic range with AGC (80dB with AGC off)
-64MHz internal sampling rate
-User Programmable AGC (automatic gain control) with enhanced Power Detector
-48kHz/16-bit Ch A and Ch B simultaneous USB audio output, 196kHz output sample rate for single channel (A or B or diversity) in SDR-IQ protocol mode
-10/100Base Ethernet interface for 400kHz sample rate through network (NetSDR protocol mode)
-Max current consumption 800mA
-Open software and hardware design for DIY development, filter upgrades etc.
It is effectively an open design, so in case you want to customize the firmware of the radio for your own purpose, it is perfectly doable! As the schematic and layout for the radio is also available,
it may also serve as the platform for your own integration project. The on-board Atmel 32-bit AT32UC3B0512 processor development GNU tools (C/C++, asm) with really nice Microsoft Visual Studio version 10 IDE are freely available from Atmel and there is an extension connector on-board with RS232TTL UART, I2C and GPIO pins dedicated for add-on hardware and user development. There is also a simplistic analog audio output on-board (24kHz/16-bit mono), that can be used for whatever it could be useful for, and a small prototyping area (space originally dedicated for custom PoE (power-over-ethernet) circuit development).
Complete schematics are here : http://files.uvb-76.net/SDR_MK1.5/SDR_MK1.5_Schematic_v1.0_col.pdf