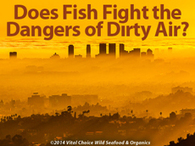 Air pollution is a major risk to human health.
The World Health Organization estimates that dirty air kills some two million people per year worldwide, and that the number is climbing (WHO 2011).
....
A pair of studies published nine years ago found that heart rate variability improved after participants who routinely breathed air polluted with particulate matter took omega-3 fish oil supplements (Holguin F et al. 2005; Romieu I et al. 2005).