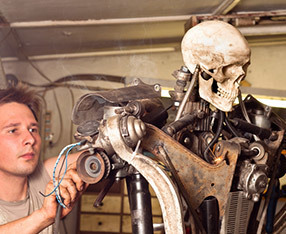 Technology moves quickly. By the time you get good at operating your new smartphone, odds are that it's just about obsolete. By contrast -- and by design -- almost nothing in American society moves more slowly than the law. And so as technological cycles spin ever faster, the creaky wheels of justice become more and more outdated.

American law has always recognized property as a bedrock value, and yet in this era of digital piracy, crowd-sourcing, and open-source platforms, how do we decide who gets credit ... and revenue from things we create together?

Oversharing isn't just a problem for kids posting ill-advised pictures from Friday night. Lots of software these days is programmed to "learn" from the Internet as millions of publicly available data points are downloaded, processed, and programmed into an ever-improving product.
David Hanson is the CEO of Hanson Robotics, a company that makes frighteningly lifelike robots, which, he hopes, will also one day have human-level intelligence. Hanson's team taught a robot language by letting it read thousands of hours of stories, interviews, and lectures written by the sci-fi legend Philip K. Dick ... but only after getting permission from Dick's estate.
Via
Wildcat2030