Scoop.it!
Developing a healthy sense of time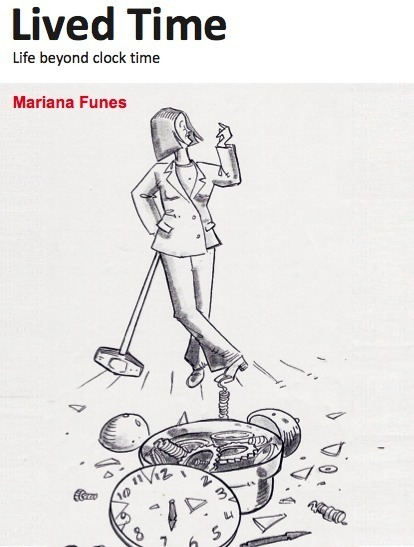 Mariana Funes's insight:
This page offer up to date resources to explore the theme of my latest book. You can buy the book from Amazon and it will be out on Kindle soon. Here I offer free resources that allow you to engage with the ideas in the book and allows me to keep the subject up to date.
From the cover:
Based on an approach the author has developed over many years of executive coaching at the highest level, Lived Time offers a fundamentally new approach to time management – a holistic rather than a mechanical approach, providing a series of experiments to improve our understanding of time throughout our daily lives. The book is designed to re-educate the reader's sense of time to discover they have all the time in the world to live life. It explores the limitations of a world view that sees 'time as money' and gives the reader a way to develop a world view that sees 'time as life' instead. The author shows how time cannot be 'managed' in the traditional sense through a mere set of prioritisation models, but must be seen an integral part of our lifestyle choices.
Praise for Lived Time:
"Your beautiful and important book deserves to be published, it has changed my life and I continue to use it to find more lived time in my life." Nancy Kline, author of 'Time to Think' and 'More Time to Think'.
"Will help everyone who has the patience and belief to look at time in a much more holistic way. Mariana says 'just change the way you think'. If you can do that – and this book shows you how – the world will open up." Brian Chernett, Chief Executive, The Ella Foundation