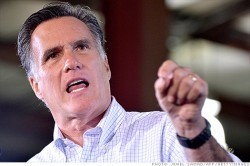 Newly-discovered audio from a conference call in June captures Mitt Romney asking business owners to urge their employees to vote for him.
LBN:
What a joke...they take everything out of context or twist the meaning of someones words to mean what they want. It's no surprise considering they like to play word games with everything from abortion to what the definition of 'is' is.
They call abortion, the killing of innocent&defenseless human beings, prochoice or 'reproductive' rights. They call terrorism 'workplace violence' ie. Ft. Hood, they refuse to call an actual terrorist attack terrorism, but senseless violence or blame a planned terrorist attack on anything other than Islamic terrorists.
The audio they share is Romney speaking to small business owners on a conference call hosted by the National Federation of Independent Business. This is the section they have an issue with:
"I hope you make it very clear to your employees what you believe is in the best interest of your enterprise and therefore their job and their future in the upcoming elections. And whether you agree with me or you agree with President Obama, or whatever your political view, I hope — I hope you pass those along to your employees. Nothing illegal about you talking to your employees about what you believe is best for the business, because I think that will figure into their election decision, their voting decision and of course doing that with your family and your kids as well."
Listen at 26:44:http://www.youtube.com/watch?feature=player_embedded&v=ucuMHuVlIW0
Then they continue to claim other employers are threatening employees they will be fired if Obama is re-elected. This isn't a threat, but a fact! Many small businesses will stop hiring and likely cut back on employees when they are faced with $2,000 or more per employee in health care mandates, along with higher taxes and other regulatory burdens. That means if a company has 40 or 50 employees at a specific restaurant location, not offering health care could cost up to $100,000.
Many companies have already stopped hiring for this reason, while some doctors have said they will quit practicing if Obamacare continues to remain law.
The employers they referenced who "threatened employees" with loss of jobs are the CEO of a FL resort company,the CEO of a timeshare company, and the Koch brothers. They didn't 'threaten employees' into voting for Romney,but merely announced under the current policies and direction of the country they will have no choice but to cut back.
Employers have every right to cut back employees if they need to watch out for their expenses. They have limited budgets to keep. What the liberal blog "Think Progress" fails to mention is companies like Darden, which owns Olive Garden, Red Lobster, and other large restaraunts are planning to cut full-time employees due to Obamacare.
Per National Restaraunt News:
In light of the passage of the Patient Protection and Affordable Care Act, restaurant companies and franchisees are looking into ways to lower costs to save money, including cutting employee hours.
"What we're seeing is that this health care law puts unique challenges on chain restaurants," said Rob Green, executive director of the National Council of Chain Restaurants. "The law will have cost implications on a lot of different business sectors, but restaurants and retail are in the bull's eye."
Specifically, two parts of the PPACA may raise costs for restaurant chains: The definition of full-time employees as those who work 30 or more hours per week, rather than the traditional 37-40 hours per week, and the fact that the law applies to any business with more than 50 employees — a number some say will discourage franchise growth.
Read more: http://nrn.com/article/restaurants-mitigate-health-care-costs-cutting-hours#ixzz29ccFlYtW
Liberals refuse to see the facts and reality that more taxes,govt regulation and mandates on business stifles job growth! Hopefully enough American's continue to see the reality we face and Romney continues to trend upward and wins the election on November 6, 2012!
Related:
http://freedomoutpost.com/2012/07/businesses-plan-to-cut-jobs-due-to-obamacare/
CNN Money Reports Employers cutting jobs to avoid health care mandate http://shar.es/cXBSf