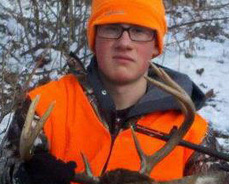 WASECA, MINNLaDue said he had an SKS assault rifle with 400 rounds of ammunition, a 9mm handgun with ammo and a gun safe with more firearms, all in his bedroom at home. He gave an officer the key to the gun safe and the key to his guitar case, where he said they'd find his notebook.

He told police that he planned to kill his parents and sister with a .22-caliber rifle because it would make less noise than some of his other firearms.

Then, he said, he planned to go to the surrounding countryside and start a fire. While police and firefighters were busy, he would go back to the school with bombs, firearms and ammunition. He planned to set off pressure cooker bombs in recycling boxes near the water fountains in the cafeteria and would shoot school liaison officer Jared Chrz "so that he did not stop him from his plans for killing more students," the document said.

LaDue told police that "if he had brought a gun with him to the storage unit … he would have shot the responding officers," the complaint said.

Seven firearms and three completed bombs were found in LaDue's bedroom, the complaint said. Another three bombs, along with chemicals and other materials, were found in the storage unit. LaDue also had 60 pounds of metal ball bearings.