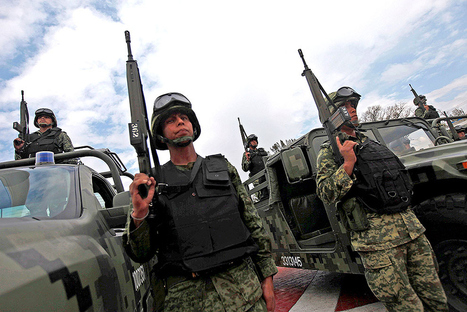 WASHINGTON — Just before 8:30 a.m. January 26, two figures dressed in camouflage and carrying military assault rifles crossed an international border, making their way on foot through the quiet desert terrain, unaware that they were under the constant watch of authorities in the country they had just entered.

Within minutes a border patrol agent confronted the two men. Weapons were drawn. Asked for identification, the two men provided their names — which didn't correspond with the names on their uniforms. After a brief, tense standoff, the two men retreated back across the border just as reinforcements were arriving.

No, this isn't the opening scene to the next season of Homeland, or some harrowing special-forces mission gone wrong in a distant corner of the world.

The armed incursion occurred on United States soil, outside Sasabe, Arizona, just north of the U.S. Mexico border. Drug dealers and migrants use a large wildlife preserve to the east and the empty desert to the west of Sasabe as trafficking corridors.

Both Mexican and U.S. border agents have crossed over the border in this area, pursuing suspects. But according to officials familiar with the situation, border crossings by members of either military are rare. In a January letter to the head of Customs and Border Protection about the incident, Sen. Tom Coburn asked if the agency has "concerns that some members of the Mexican Military could be providing security and/or intelligence to Drug Trafficking Organizations." The Sinaloa Cartel, widely considered one of the world's most powerful drug syndicates, operates along the Sasabe stretch of the border.

"Anytime individuals in military uniforms cross a border that's obviously cause for concern," the Oklahoma Republican told BuzzFeed Friday. "This incident deserves a close look."

An internal CBP "Foreign Military Incursion" incident report was provided by a confidential informant to BuzzFeed and verified by Sen. Coburn. It makes for riveting reading.