Scoop.it!
Where is the MSM,Obama&Sharpton?Was Trayvon more important than Antonio?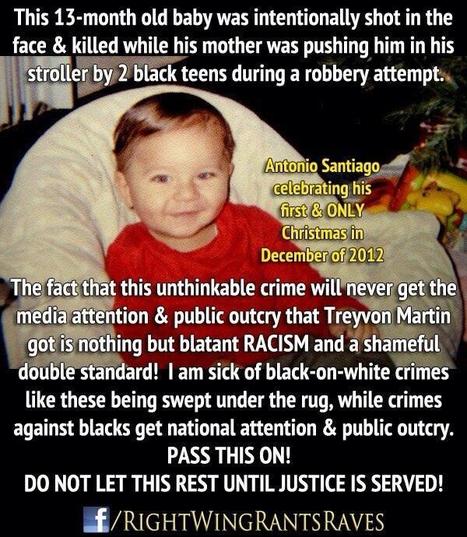 littlebytesnews's insight:
While the creeps who did this to little Antonio were captured and the crime is clearly a first degree murder case, why is there such a double standard in media reporting when blacks shoot and kill someone, including one of their own??? If Trayvon would have had the gun or obtained the gun from Zimmerman, he would have killed Zimmerman for sure.
Instead he chose to use his fists to beat him and pound his head into the sidewalk....at that time Zimmerman had no other choice but to reach for his gun and defend himself. Zimmerman had no ill intent or hate, he was merely doing his job as a community neighborhood watch volunteer. He was merely trying to keep his neighborhood safe after reports of several break ins nearby. He committed no crimes by following Trayvon....while it might have been a mistake it didn't give Trayvon the right to confront him and sucker punch him, then use MMA style fighting to overpower him, pound his headinto the hard cement sidewalk and attempt to kill him or otherwise cause serious harm. Even a bump to the head can cause a concussion.
Zimmerman had obvious wounds that resulted from being overtaken by Trayvon. Trayvon had the grass stains on his knees which proves he was on top, he had the wounds on his hands from punching Zimmerman in the face and nose and Zimmerman had grass stains on his back and suffered injurires on the back of his head and face from Zimmerman punching him and pounding his head into the sidewalk. There is no substantial proof that Zimmerman did not fight back in self defense.
Related:
911 Tape Shows Zimmerman Stopped Following When Told To http://sco.lt/8FB23d 
Trayvon Martin's testimony wouldn't have changed anything--Evidence trumps testimony http://sco.lt/4k5kEj ;
Race Baiting Prosecutor: Zimmerman 'Profiled' Trayvon http://sco.lt/8boGdF
15 Photos and Text Messages From the Trayvon Martin / George Zimmerman Court Case http://sco.lt/9F3dbt

Zimmerman trial: There will be blood in the streets! http://sco.lt/4lzzGb

Flashback: DOJ Says It Is Supervising Zimmerman Prosecution http://sco.lt/8eA3kX

New documents reveal Justice Department collusion in Trayvon protests | Human Events | http://sco.lt/5UQXMv

Did Justice Department support anti-Zimmerman protests after Martin shooting? http://sco.lt/8DTlWT

Flashback: Detective Who Filed Charges Against Zimmerman Says He Was Pressured To Do So By Corrupt Black Superior... http://sco.lt/5eJCKn

Hawaii's Trayvon Martin?White State Dept Agent Charged With Murder of Hawaain Man During Brawl http://sco.lt/7UH93h

Media Blackout: Georgia Man Murdered in Black-on-White Hate Crime-Sharpton?? http://sco.lt/97FfX7