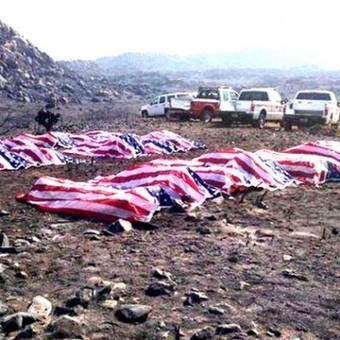 A controversial new photo has surfaced, showing the body bags of the 19 dead Arizona firefights covered in American flags.

Grieving families are upset by the photo, but don't know what to do about it now.

The photo was leaked by a Facebook user, who posted it on a Facebook page dedicated to the dead heros. It is still unclear who took the photo or how the Facebook user obtained it.

Even though the picture had no caption when it was posted, it still gained a massive amount of attention. Over 1,000 people shared the photo on their own Facebook walls.

Some viewers think the image pays a tribute to the firefighters who tragically died on Sunday — others, however, think it is an invasion of privacy.
Juliann Ashcraft, a widow of one of the deceased men, said she knew they were going to take photos at the scene but thought they would be kept private.
She said, "It makes me sad. But it doesn't make or break things in the end."