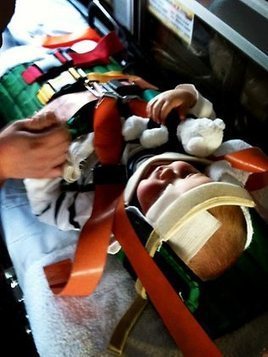 Today was another horrific day for America and foreign tourists who came to run in and watch one of the most popular US marathon's...The Boston Marathon, which is often held on "Patriot's Day" in Boston in honor of our nations founding. Patriots Day is a Massachusetts state holiday which commemorates the first battles of the American Revolution in 1775.

Despite the tragedy and loss of life, along with massive reports of injuries, at least 140 or more injured and at least three confirmed dead, including the youngest victim killed, an eight year old boy...we have to look to the good and realize more good exists than evil, despite the reports of tragedy. This quote from Mr. Rogers mother, is comforting and fitting for parents to share with their children after such tragedies, but also for adults to put such a tragic situation in perspective:
Be a helper.....Click if you can help with a place to stay for those stranded in Boston...
Have a friend running the marathon? Check out this site to find their most recent checkpoint. Additionally, families looking for loved ones should call 617-635-4500. Anyone with info about explosions should call 1800-494-TIPS
Below is a comprehensive summary from various sources of some of the events that unfolded after the 2013 Boston Marathon Explosion. I will try to update it as we learn more or post a new post as new updates come in.
WARNING: GRAPHIC CONTENT AND VIDEO BELOW

FBI warned police to be on the lookout for a 'darker-skinned or black male' with a possible foreign accent in connection with the attack

Hospitals reported at least 144 people are being treated, with at least 17 of them in critical condition and 25 in serious condition.

At least eight of the patients are children - including a two-year-old boy with a head injury

Hospitals report they were removing ball bearings from victims - suggesting the bombs were designed to propel shrapnel
At least ten people have had limbs amputated

Two detonations came 12-seconds apart - with witnesses describing scenes of utter 'pandemonium'
New York City stepping up anti-terror efforts in wake of attack and have tightened security around popular destinations like Times Square
FBI officially classifying bombings as terrorist attack, as President Obama said it is important to 'get to the bottom of this'

Boston police say no suspect has been taken into custody
Medical officials have said that at least 10 injured people had limbs amputated and several of the patients treated at Massachusetts General Hospital suffered injuries to lower limbs that will require 'serial operations' in the coming days, trauma surgeon Peter Fagenholz said on Monday night to CNN.

Initially counter-terrorism sources in the city believed that seven devices were planted across the city - but only two detonated.

However, a law-enforcement official said late on Monday evening that investigators now doubt those devices were bombs, but were in fact suspect packages - left behind as runners and pedestrians rushed away from the scene in the aftermath of the blasts.

Eventually law enforcement and city officials disputed published ­reports that investigators had discovered one or more bombs that had failed to explode.

A federal law enforcement official told CNN that both bombs which detonated at the Boston finish line were small, and initial tests showed no C-4 or other high-grade explosive was used - indicating they were crude devices.


It was this afternoon that at least three people were killed and up to 144 people injured as two bombs exploded almost simultaneously near the finish line of the Boston Marathon today.

After the twin detonations 12 seconds apart ripped through the cheering crowds 50-yards away lining Boston's streets at around 2.50 p.m - one witness told CNN that it 'felt like a huge cannon'.
Their patients included a 2 year-old-boy with a head injury has been admitted to the Medical/Surgical ICU, a a 9-year-old girl with leg trauma who was sent to the operating room and a 12-year-old boy with a femur fracture.
The condition of these children currently is not known.
Earlier on Monday, it was reported that a potential suspect in the attacks was being guarded by police in an undisclosed Boston hospital.
Several reports now say a suspect is being guarded in a Boston hospital bed. One initial report said he was a Saudi Arabian national.
CBS News senior correspondent John Miller confirmed that a Saudi national is being questioned by authorities. He was seen 'acting suspiciously' running from the explosion. He was turned over to Boston police and is being questioned by the FBI. He is being cooperative and denies any involvement.
It was later revealed that the Saudi national question was report­edly tackled and held by a ­bystander after he was seen running from near the scene of the explosion, said a law enforce­ment source. The Saudi man, believed to be a university student in Boston with a valid visa, is cooperating with the FBI and told agents that he was not involved in the explosions, and that he ran only because he was frightened. Investigators did not believe the man as a suspect.
Speaking to the nation just after 6.p.m this evening President Barack Obama vowed that those responsible will 'feel the full weight of justice.'
He reiterated that many people were injured, 'some gravely' and remarked that on days like today, 'there are no Republicans or Democrats,' emphasizing that it is crucial not to categorize the bombings as terrorist attacks. *** Summary of Boston Marathon 2013 Explosion Timeline:
9 A.M. - The 2013 Boston Marathon begins.11:58 A.M. - Rita Jeptoo of Kenya becomes the women's winner, crossing the finish line with a time of 2:26:25.12:10 P.M. - Men's winner Lelisa Desisa, of Ethiopia, finishes with a time of 2:10:22.2:50 P.M. - Two blasts go off only seconds apart at the finish line, less than 100 yards from each other on the north side of Boylston Street.3 P.M. - A fire breaks out in the mechanical room at the JFK Presidential Library, but is reportedly not related to the explosions at the marathon.3:34 P.M. - The Massachusetts Bay Transportation Authority announces that multiple sections of the Green Line will be suspended due to police activity. 4:02 P.M. - The first official reports from the Boston Police Department list two dead and 23 injured.4:30 P.M. - A third blast goes off near the JFK Library though no one is injured. Authorities say the explosion is being treated as an 'ongoing event.'4:30 P.M. - Boston Police Commissioner Edward Davis holds a press conference urging people to remain indoors and not congregate in large groups.5:23 P.M. - The fire in the JFK Library is put out.6:10 P.M. - President Barack Obama addresses the nation, vowing: 'We'll find out who did this. We'll find out why they did this.'6:30 P.M. - One of the dead is reported to be an 8-year-old boy. Click headline to read more....