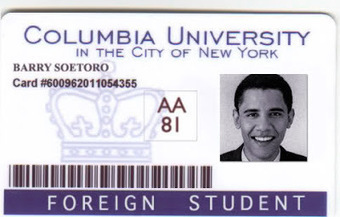 None of Obama's Israeli Columbia '83 classmates recall the young president.HT:IsraelMatzav.I graduated from Bir Zeit on the Hudson a little too early to remember Barry Soetoro a/k/a Barack Hussein Obama. But isn't it more than a little curious that not a single one of the 25 members of the Columbia College Class of 1983 - allegedly Obama's class - who lives in Israel remembers him?

What are Obama's classmates in Israel up to? Quite a few, like him, went straight to law school after finishing their undergraduate degrees. One is a doctor, several are engineers, and a few hold top jobs in finance. There's an architect in the group, a tour guide, a librarian, a speech pathologist, an occupational therapist and a journalist. Most are married with children (about three on average ), a few are already grandparents, while others, who came to parenting relatively late in life, are still chasing around toddlers. Among the group are also two married couples who began dating while in college.
They're scattered around the country, but Beit Shemesh and Ra'anana seem to be their preferred locales. Four live in Jerusalem and its outskirts, three in Tel Aviv, two are up north in Kfar Vradim, and two live over the Green Line in the settlement of Ginot Shomron.
But here's the thing: Not one of us remembers Barack Obama - who transferred to Columbia after his sophomore year at Occidental College in California - from our undergrad years, nor do we know anyone else who does.
"If he wasn't on my radar, he wasn't on anyone's radar," asserts Jamie Miller, a mother of five, who lives in Beit Shemesh and remains active in the alumni association, traveling back to New York every five years to attend reunions.
"I was a cheerleader, so I knew all the jocks," says Miller, who went to law school after college and today works as a librarian and English teacher. "I was in the marching band, I worked on the yearbook, and I was involved in student government, so I knew everyone. But I never saw him around."
Sarah Graber Nehrer, a speech pathologist who moved with her family from the United States to Rehovot last summer, says she became curious about Obama even before his first presidential run. "When he first came on the political scene, back when he was running for the Senate, I was living in Illinois, and I was like, 'Wait, this guy went to school with me,'" she explains. "But I had no recollection of him whatsoever, and neither did anyone else I know, which I found very strange."
Compared with other American universities, Columbia, a member of the prestigious Ivy League, is small. Its graduating class in 1983 - including Columbia College for men, Barnard College for women and the College of Engineering - had fewer than 2,000 students. And since the campus itself, located in the uptown Manhattan neighborhood of Morningside Heights, is also quite small, the opportunities to bump into your classmates and get to know faces over a period of four years were abundant.