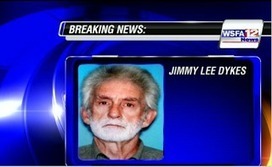 MIDLAND CITY, AL (WSFA) -
In one of the first developments since the Midland City child hostage situation began on Tuesday, a photo of the suspect has been released, and the school bus in which the driver was fatally shot and from which a 5-year-old child was abducted has been moved.
Local and national attention continues to focus on the child hostage standoff in the small, southeastern Alabama town of Midland City where authorities continue with efforts to bring the 5-year-old and his captor, the suspected killer of the boy's bus driver, out of an underground bunker.
News conferences to update the status of the situation have been few, brief, and thin on details. Dale County Sheriff Wally Olson held just two briefings Thursday, one at 6 a.m. and the other at 9:30 p.m. at which he could only reiterate that negotiations, taking place via a PVC pipe connected to the buried bunker, were ongoing, and the little boy is believed to be relatively unharmed.
Authorities are saying little out of an abundance of caution in an effort not to damage their operation. But citizens of Midland City, where approximately 2,300 people call home, are growing anxious. The situation hasn't changed in more than 50 hours.
CHILD HOSTAGE
Very little information is being release, or published, about the child at the center of this conflict. Many in the community identify him only as "Ethan". His mother calls him "Love Bug", according to State Senator Harri Anne Smith in a Thursday morning interview on NBC's Today Show. Smith said the boy's family is "holding on by a thread".
The child, who turns 6 next week, is said to have a medical condition for which authorities have been able to provide medication. He's also been given the crayons and coloring book he requested Wednesday.
There's been no connection made between the suspect and the child. and it's believed the boy was chosen at random. No known hostage demands have been made.
SUSPECT - JIMMY LEE DYKES
Neighbors described Dykes as being "anti-government" and "a long time concern" and some expressed no surprise that he could be involved in a situation like the current one with law enforcement.
While one neighbor says Dykes is responsible for the beating death of their dog, and he's accused of gunning down the bus driver, Kelly Miller believes he has no desire to hurt the child. She believes he has some sort of message he wants to get out, though she admits she doesn't know what that message might be.
If he is trying to communicate with the outside world, Dykes may continue to do so from subterranean levels for the foreseeable future. He's been said to have previously spent more than a week in the homemade bunker without coming out.
Thought to be a "survivalist" or "Doomsday prepper", if Dykes planned the situation he's currently in, his bunker could be stocked with food and other items that could extend his ability to stay below ground long term. He's thought to have electricity, television, and possibly a heat source. It's not known what kind of weaponry he may have stocked.
Dykes is said to be a Vietnam veteran who may suffer from Post Traumatic Stress Disorder, or PTSD.
He now appears on the radar of the Southern Poverty Law Center, or SPLC. The Montgomery-based SPLC tracks hate groups and underground organizations and says Dykes came to their attention after Tuesday's events because of anti-American beliefs they say he's shown.
SPLC's Mark Potok said of Dykes' past that he was described as "very much standoffish and very much a loner". Dykes was virtually unknown to anyone outside his small town, until now. Potok said it wasn't clear if Dykes is connected to any anti-government group or radical group. "We just don't know," he said.
Officials can't, or won't, confirm if Dykes' hostage situation is connected to his alleged anti-American beliefs.