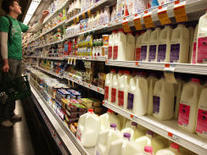 Santa, enjoy your milk now: Come January 1, it may cost $8 a gallon
The "dairy cliff" is just the most immediate of what would be gradual price increases on foods across grocery stores if Congress doesn't pass a farm bill to replace the one that expired nearly three months ago. Technically, farm regulations since the end of September have been operating under a 1949 "permanent" law. Because the 2008 law covered all crops planted in 2012, though, and federal funding for many agricultural programs is assured through March 2013, lawmakers have enjoyed a bit of a grace period until Jan. 1, when products like milk could skyrocket to prices based on dairy farm production costs 64 years ago.
But just days before the end of the year, farmers and their bankers - left in the lurch with decisions about next year's crops - are still waiting and hoping for a holiday miracle in Washington. Agriculture Secretary Tom Vilsack might advise they don't hold their breath: After weeks of aggressively campaigning to get the House and Senate Agriculture Committees in a room to hash out the makings of a new five-year plan, Vilsack this week conceded that the passage of a bill by Jan. 1 was unlikely.
Rep. Frank Lucas, R-Okla., have both blamed their parties' leadership for keeping them out of the loop on the best- and worst-case scenarios for a farm bill. Lucas told Politico last month that House Speaker John Boehner, R-Ohio, had indicated to him, however vaguely, that farm legislation -- the urgency for which has largely been ignored by Congress, and the media -- was being strongly considered as part of the deficit reductions necessary to avert the far more publicized "fiscal cliff."
In a statement to CBSNews.com, Stabenow said she's holding out hope that the spending cuts offered in potential farm legislation are appealing to leaders trying to negotiate past the "fiscal cliff." "The farm bill is the only bipartisan deficit reduction bill that passed the Senate this year, and including it in a larger deficit reduction agreement would help the country avoid the fiscal cliff," she said. "Without a 5-year farm bill by the end of the year, milk prices could begin to rise sharply and America's agriculture economy will continue to be significantly impacted."