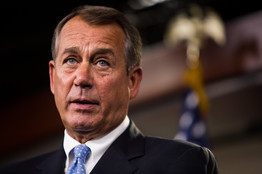 House Republicans made a new deficit proposal to the White House that calls for $800 billion in tax increases, half of what President Obama proposed and an amount Republicans say could be achieved without raising tax rates.
LBN Update:Boehner and GOP House offered new proposal with half the 1.6T Revenue Obama wanted and it calls for savings in Medicare and Social Security. Would cut Mandatory spending by $900B. The proposal doesn't offer the tax increases on the rich that Obama wants.
This proposal has less cuts than Paul Ryan's plan passed in the House. The White House believes they need to raise top tax rate in order to reduce the debt, which this plan still doesn't change. But the fact of the matter is raising tax rates on the top 1% isn't going to reduce the debt and will only pay off 8.5 days of debt under Obama's spending levels.
This plan uses the Boweles Plan from last year's Simpson-Boweles plan. It adjusted the rate of inflation on social security and raises the eligibility age for Medicare, something Obama did discuss last year as a possiblity.
I couldn't access the article, but based on the video commentary the above is a summary of what the GOP proposal offers.