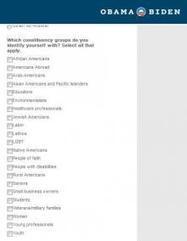 CNSNews.com was launched on June 16, 1998 as a news source for individuals, news organizations and broadcasters who put a higher premium on balance than spin and seek news that's ignored or under-reported as a result of media bias by omission.
Fresh off his reelection, President Barack Obama is asking his supporters to complete a survey that asks the people being polled to check off which "constituency groups" they identify with – there are 22 groups listed but not one for "whites" or "men."
The post-election survey, distributed through www.barackobama.com to "take this organization forward," includes the question, "Which constituency groups do you identify yourself with? Select all that apply." It then lists 22 groups.
But whites and men are not on the list – women are, as are African Americans, Arab-Americans, Latinos and LGBT (lesbian, gay, bisexual and transgender).
Other "constituency groups" include "Educators," "Environmentalists," "Labor," "Students," "People with disabilities," and "Youth."
Screenshot of the "constituency groups" list in an online survey distributed by the post-election Obama-Biden campaign.
Also as an option: "People of faith," "Small business owners," "Seniors," "Veterans/military families," and "Young Professionals."

The survey also requires Obama supporters to identify their gender as either "male," "female," or "other/no answer."