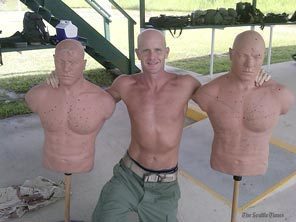 The FBI agent who started the email inquiry that eventually led to the resignation of CIA Director David Petraeus is known for his work in Seattle leading the investigation into millennium bomber Ahmed Ressam.
The picture, which was sent to a reporter at The Seattle Times in 2010, was taken following a "hard workout" with the SWAT team at MacDill Air Force Base. He's posed between a pair of target dummies that have a remarkable likeness to the buff agent. The caption on the photo, which was sent from a personal email account, reads, "Which One's Fred?"
Humphries, who works out of the Tampa, Fla., FBI office, has found himself swept up in the intrigue and mystery surrounding revelations that Petraeus was having an affair with his biographer.

The relationship was revealed after Kelley went to Humphries, who is a family friend, with concerns over disturbing emails she had received. That email, it turned out, was sent by Paula Broadwell, Petraeus's lover.

Humphries took Kelley's concerns to the FBI cybercrime division, but later was worried that the FBI was dragging its feet — possibly for political reasons — and took his worries to U.S. Rep. Dave Reichert.

Humphries' actions have resulted in him being internally investigated for sending the picture and reprimanded for interfering in the Kelley investigation, according to sources.
Humphries has a history of bucking the system on principle, once agreeing to testify for the defense of convicted would-be "millennium bomber" Ahmed Ressam about Ressam's harsh treatment by the agent's colleagues after the 9/11 attacks.

He was outspoken in opposing the FBI's decision at the time to turn Ressam over to agents from New York after the attacks, and warned their tough tactics were undoing the cooperation Humphries had coaxed out of the al-Qaida-trained terrorist. Eventually, Ressam ceased cooperating, as Humphries predicted.

Humphries found himself sharply criticized within the bureau. He insisted he had done right and owed it to Ressam.

That same sense of right and duty may be what drove Humphries late last month to contact Reichert.
Reichert, R-Auburn, took Humphries' concerns to House Majority Leader Eric Cantor, who took the message to FBI Director Robert Mueller.
Congressional leaders have since complained that they weren't told about the probe until Petraeus resigned three days after the election.

Humphries, in a telephone interview on Wednesday, acknowledged he sought out Reichert, through his former boss, retired Seattle FBI Special Agent in Charge Charlie Mandigo, but declined to elaborate.
Humphries said his motives were not political.
Humphries, 47, said he sent the photo to Kelley and others in the fall of 2010, shortly after he had transferred to the Tampa office from Guantánamo Bay, where Humphries had been an FBI liaison to the CIA at the detention facility there.

Indeed, among his friends and associates, Humphries was known to send dumb-joke emails in which the punch line was provided by opening an attached photo.

Mandigo confirmed he received a copy of the photo as well and described it as "joking." The photo was sent from a joint personal email account shared by Humphries' wife. Humphries said that, at one point, his supervisor posted the picture on an FBI bulletin board as a joke and that his wife, a teacher, has a framed copy.

Humphries joined the FBI after serving as an Army infantry and intelligence officer, leaving with the rank of captain. He had been with the FBI for just two years when he was made the case agent in the Ressam investigation, involving a 1999 plan to set off a bomb at Los Angeles International Airport.

The trial judge in the Ressam case, U.S. District Judge John Coughenour, praised Humphries' efforts and integrity repeatedly.
The New York Times quotes Humphries' attorney, Lawrence Berger from the Federal Law Enforcement Officers Association, as saying that the Humphries and Kelleys socialized, and that was part of the reason Jill Kelley went to him about the troubling emails.

In May 2010, while an agent in the Tampa field office, Humphries shot and killed a disturbed, knife-wielding man outside the gate of MacDill Air Force Base, where Humphries was training with SWAT and special-forces soldiers.

In an email to The Seattle Times reporter several months later, Humphries described the incident.
"I had 4 seconds, that seemed like 40, to go through my mental checks," he recalled. With cars and civilians around, he waited "'till he was five feet from me before firing two rounds ... after repeatedly warning him.

"I worried it was a FT Hood scenario," he said, referring to the shooting spree in 2009 at the Texas Army base that left 13 dead and dozens wounded. "I didn't even have time to put on my ballistic vest. Crazy world."

The shooting was deemed justified. Locally, Humphries is remembered as a driven and dedicated counterterrorism agent whose first big case was Ressam, during which he wound up traveling nearly 300,000 miles. Ressam is serving a 37-year sentence.

Humphries also was a key agent in the investigation into James Ujaama, a Seattle man who tried to set up a terrorist training camp in Oregon.

Andrew Hamilton, a King County senior deputy prosecutor and former federal prosecutor in the Ressam case, said of Humphries on Wednesday, "I can honestly say he was one of the finest agents I have ever worked with." He said "one of the reasons" Ressam cooperated with federal investigators "is the way he was treated by Fred Humphries."

"I think Fred was very caring, he was honest and very professional," Hamilton said of the agent's dealings with Ressam. "Let me just say this, Fred never got tired," Hamilton added. "He would work until the job was done."
LBN:
I can see that this was a joke and there was nothing sexual about it, especially if he sent it to several people/friends as a joke, with the heading "Which One's Fred".
The agent, Fred Humphries was responsible for leading the investigation of Ahmed Ressam the millenium bomber in Seattle and other top terrorist and criminal investigations.
While his defense of a terrorist and his treatment by others might have been controversial, the picture was sent long before the Patraeus investigation occured and shouldn't be used against him to reprimand him or cause him to lose his job. It sounds like overall he's a good agent and was only seeking to do his job and investigate the harassing emails for a friend/Jill Kelley.
Overall, the Patraeus affair and investigation doesn't really have anything to do directly with what happened in Benghazi and the failure of the Obama administration from providing proper security before the attack. Again, the buck stops at the top and Obama should be the one to blame for the attacks and the failure to provide proper security before, during and after the attacks. The failed leadership of the Obama administration also led to another attack in Afghanistan at Camp Bastion, which resulted in the deaths of two Americans and the largest loss of US aircraft since the Vietnam War.
According to this report by Michelle Malkin, 15 Taliban infiltrators -- dressed in American combat fatigues and armed with assault rifles, rocket-propelled grenades and other weapons -- resulted not only in two deaths, but also in the most devastating loss of U.S. airpower since Vietnam. Six Harrier jets were destroyed; three refueling stations were wiped out; six hangars were damaged.
The attack came exactly six months after a failed suicide attack targeting Defense Secretary Leon Panetta and three days after the deadly attack on our consulate in Benghazi.
While Petraeus stepped down, Obama "has faith in Gen. Allen, believes he's doing and has done an excellent job" overseeing security in Afghanistan, Carney said.
Are families of our Marines at Camp Bastion happy with Allen and the Obama administration? Donella Raible, widow of Lt. Col. Raible, was blunt. "I'm not," she told me Tuesday afternoon by phone. "I'm mortified. It shows the corruption in the whole Washington/Arlington culture." Mrs. Raible, who is now raising three children (ages 11, 9 and 2) on her own, said, "I couldn't sleep at night if I were (Obama). If they're happy with things in Afghanistan, they should come look at the faces of those left behind."
If not for the heroism of Lt. Col. Raible, Sgt. Atwell and their fellow brothers-in-arms, the entire Harrier squadron and a barracks-full of sleeping Marines could have been lost. Another Camp Bastion Marine wife and mother of two told me: "My husband survived, and I am so grateful, but I am also heartbroken for those who died. ... There is no excuse for this. We are the United States of America and supposed to be the badass of all badasses, and we are constantly made out to be fools and caught off guard. ... I blame this administration for these recent preventable losses of life."
Deborah Hatheway, aunt of Sgt. Atwell, said the family received a standard-issue condolence letter from the White House last week. "That means nothing. This was not supposed to happen," Hatheway told me. She blasted the "negligence, irresponsibility, incompetence and plain ignorance" that led to her nephew's murder, and she believes the failures in Benghazi are tied to the fate of the fallen at Camp Bastion.
Off the record, several family members of Camp Bastion Marines have voiced persistent concerns about security in what was touted as one of the safest places to be in Afghanistan. "It is not a matter of if, but when" the compound is attacked again, one told me. Another relayed how a few weeks before the 9/14 attack, razor wire on the perimeter kept disappearing -- but Marine sentries were barred from firing on suspected thieves to avoid causing civilian casualties. Others wondered why security hadn't been stepped up given the public threat by the Taliban on September 10 to kill Prince Harry, who was stationed at Camp Bastion.
Read more: http://www.registercitizen.com/articles/2012/11/15/opinion/doc50a47667654c0313332345.txt
Prior to these attacks, Iran captured a US drone after they supposedly shot it down or it crashed in Iran, even though there is no damage to the drone based on pictures they have presented. In addition to the Benghazi attacks, Camp Bastion and the drone capture, Over 20 SEALs were killed in a Chinook helicopter 'crash' that caused the death of many of SEAL Team 6 members. The investigation into this attack/crash claims there was no blame on the military but there is still no answer as to why so many SEALs were put on one helicopter during a rescue operation. Then at the beginning of November another US drone was shot at by Iran, who claimed it entered their airspace despite being in International airpace. In the meantime, the Obama administration, DOD, etc have not done anything about these provocative attacks and lapses in security.