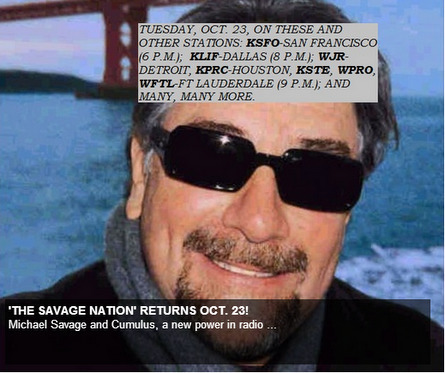 #Obama #Romney #election2012 #firstamendment #freespeech #talkradio #conservative...
I am, ever since I became more political in 2008. My dad however, has listened to Savage since he came on the air and my brother has been listening to him since at least 2003. My husband actually got me into listening to Savage after I became more interested in politics. The more I learned about Obama, the more involved I became and the more information I sought.
Some consider Savage too outspoken, controversial, arrogant, etc, but I find his insight usually accurate, honest and straightforward. I also like that he mixes his show up with some personal stories, humor and other topics. However, I most value his knowledge of history and his political opinions.
I don't know about you, but I'm looking forward to having his voice on the airwaves again. It's been a long month without his insight, especially during this critical time in our country. Not that his opinion will change mine in anyway, I disagreed with him when he picked on former Presidential Candidate Rick Santorum, but I respect his honesty.
Anyway, I hope his show will air nearby otherwise I hope they will have his show streaming online again for free, so everyone can hear him from sea to shining sea and across the world.
Check out if he's coming to a radio near you at: http://www.michaelsavage.wnd.com/