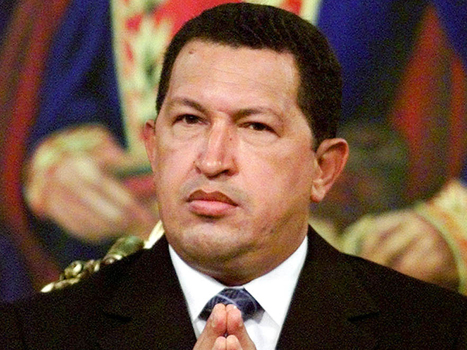 Updated at 11:06 p.m. ET: CARACAS - With 90 percent of the votes in, President Hugo Chavez was declared the winner in the Venezuela presidential election Sunday night.
LBN:
Chavez hopes Obama gets re-elected...why if he doesn't consider the US an ally??
Since Chavez was re-elected crude oil prices are expected to increase according to oil industry experts.Oil production in Venezuela is down 30% in last decade. Under Chavez food is in short supply and crime is rampant.
My commentary is in brackets below....it's a sad day for the future of Venezuela. It looks like the future will remain the same if not get worse as Chavez retains power for a third term. After 14yrs of living under socialism and his dictatorship, the poor have become so dependent on the government and entitlements they feel helpless and unable to provide for themselves. They chose big government over an opportunity to become self-reliant with reduced state regulations and increased private investment opportunities if Capriles, Chavez 40yr old opponent would have introduced if he had won.
With 90 percent of votes counted, Chavez had more than 54 percent of the vote to 45 percent for challenger Henrique Capriles, an athletic 40-year-old former state governor who unified and energized the opposition while barnstorming across the oil-exporting nation.
Chavez's charisma, well-oiled political machine and a legacy of putting Venezuela's poor first with generous social welfare programs proved hard to defeat...
Chavez will now have a freer hand to push for an even bigger state role in the economy and continue populist programs. He's also likely to further limit dissent and deepen friendships with U.S. rivals.
One pro-Chavez voter, private bodyguard Carlos Julio Silva, said that whatever his faults, Chavez deserved to win for spreading the nation's oil wealth to the poor with free medical care, public housing and other government largess. The country has the world's largest proven oil reserves.[this is what Obama is attempting to do here by redistributing the wealth, increasing social welfare/entitlement programs, doign away with the welfare to work program and passing his own amnesty for Dreamers;this creates a dependent group of voters who will remain loyal to him]
Chavez's critics say the president has inflamed divisions by labeling his opponents "fascists," ''Yankees" and "neo-Nazis," and it's likely hard for many of his opponents to stomach another six years of the loquacious and conflictive leader.[something Obama has done with race warfare, class warfare, calling Conservatives&prolifers extremists and "teabaggers']
Some said before the vote that they'd consider leaving the country if Chavez won.[some may do that here if Obamao is re-elected]
Gino Caso, an auto mechanic, said Chavez is power-hungry and out of touch with problems such as crime. He said his son had been robbed, as had neighboring shops.[Obama turns a blind eye to increased crime around the country, particularly black on white crime, including the flash mobs that have sprung up around the country the past few years, threats from the NBPP against the lives of private citizens like George Zimmerman and voter intimidation.]
"I don't know what planet he lives on," Caso said, gesturing with hands blackened with grease. "He wants to be like Fidel Castro - end up with everything, take control of the country." [sounds like Obama's plan for fundamentally transforming America]
http://hosted.ap.org/dynamic/stories/L/LT_VENEZUELA_ELECTION?SITE=AP&SECTION=HOME&TEMPLATE=DEFAULT&CTIME=2012-10-07-22-50-57
Related:
What's Next For Venezuela and the US??
http://www.reuters.com/article/2012/10/08/us-venezuela-election-idUSBRE89601Z20121008
The government spent lavishly during the campaign to boost Chavez's chances, likely ensuring healthy economic growth of 4 to 5 percent this year but potentially paving the way for an inflation-fueled hangover in 2013.
In the past, Chavez has taken advantage of election wins to press forward with radical reforms, and there is speculation that his taste for nationalizations may turn to some untouched corners of Venezuela's banking, food and health industries.[something Obama has started his first term and will fully implement if re-elected]
Having already controversially amended the constitution to scrap presidential term limits, Chavez might also be tempted to tinker with it further to ensure continuity for his ruling Socialist Party should his cancer return.[something else I'm sure Obama would love to do in a second term]
The constitution states that if an incumbent steps down in the first four years of a six-year term, a new vote would be called. Under such a scenario, Capriles or another opposition candidate would have another crack at power.
Chavez's win will probably mean more foreign investment from politically allied countries such as China, Russia, Iran and Belarus, while Western investors are more cautious. Relations with Washington are also likely to remain on edge, though Venezuelan oil has continued to flow to the United States over the years despite the diplomatic tension.
Wall Street had been hoping for a Capriles win, so prices of Venezuelan bonds - among the most actively-traded emerging market debt - are likely to dip on Chavez's triumph.[something we can expect if Obama is re-elected]
UPDATE 1:45 AM via DailyCaller.com
Venezuela Twitter users have claimed Chavez's victory was wrought with election fraud, and that the socialist incumbent president sent tanks into the streets of his country as those exit poll reports showed him losing. A picture of the tanks surfaced on Twitter Sunday evening.
The British Guardian newspaper reported that Chavez also sent troops armed with AK-47s into Venezuela's streets to fight against any protests in case unrest came as a result of the news.
A Spanish news outlet reported earlier on Sunday that exit polls showed Capriles defeated the socialist president by a narrow margin.
—
According to an English language translation of the local report, based on Google Translate, Chavez is headed for defeat:
The candidate of the Democratic Unity Table (MUD), Henrique Capriles, is leading against Venezuela's President Hugo Chavez in the presidential elections held on Sunday … according to exit polls by consultancy Variance prior to the closing of polling stations. The time set for the closing was 12:30 a.m. Spanish time, however, and because of the long lines in some of them, polls have remained open without a definite closure time.
Despite the fact that Venezuelan law expressly prohibits the publication of polls, the Spanish outlet was free to conduct its polls. Its exit surveys indicate that Capriles won 51.3 percent of the vote, compared to Chavez's 48.06 percent.
Variance director Rafael Delgado explained to Caracol Radio that the exit poll surveys were conducted in the Capital District and in the states of Zulia, Lara, Aragua, Miranda, Carabobo and Anzoategui.
If this data is confirmed in the final vote tally, Delgado said, it would end Chavez's thirteen year reign as Venezuela's leader and usher in a new political reality for the country and region.
Read more: http://dailycaller.com/2012/10/07/report-exit-polls-show-hugo-chavez-lost-venezuelan-election/#ixzz28hArFA6N