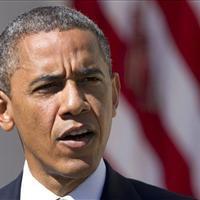 This one is shaping up to be the soundbite of the day, courtesy of President Obama. At a Univision forum in Miami, the president said this when reflecting on his first term: "I think that I've... Politics News Summaries.
*Obama's Resignation?*
Obama claims he can't change Washington.....so much for "Yes We Can"....I guess it's time for Obama to resign and step aside so that Romney can take over and get the job done that Obama can't finish. Not to mention can't even get the Senate to pass a jobs bill or budget in over three years!
Obama doesn't know how to fix the economy or doesn't want to fix it. He had control of the House&Senate the first two years with a super majority and all they did was push Obamacare through, using bribes and kickbacks behind closed doors. It didn't matter if everyone read what was in the bill, it wasn't debated on C-Span as promised by Obama and it wasn't posted online 72hrs before it was passed or signed into law.
Every promise Obama has made and continues to make will go unfulfilled because his agenda and the agenda of the Unions and lobbyists, like Planned Parenthood will always come first. The middle east is on fire due to his failed pandering and appeasement policies. Americans are dead due to lack of security, incompetence and plain stupidity on his part and the State Department. More military lives have been lost under Obama and more Mexican and American lives have been lost due to the botched fast and furious gun runner sting.
It's time for change and time for new leadership, real leadership and Romney/Ryan will get the job done! November 6,2012 must be Obama's resignation and we must prevail!