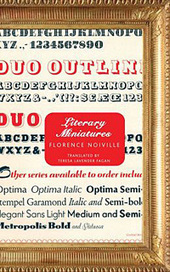 This is startlingly evocative – even poetic – language for a critic, and yet the beautiful language that cascades through Noiville's literary character sketches is every bit as compelling as the characters she interviews.
Still plagued by lack of confidence, one day she came up against one of journalism's greatest nightmares: returning home from an interview, she discovered she'd lost all her notes. In a panic, she rapidly put down to paper those impressions she could remember from the interview. She realized she had no choice but to "…write my interview from memory, to reconstruct the meaning of the dialogue, to accept that I would be more than ever, taking the risk of projecting my subjective reaction onto it".
She nevertheless submitted the highly stylized result. Her editor ran it, and shortly thereafter she received a note from the subject of the interview, saying it was the best piece on him that he'd read. This unique style – born of an authenticity sired in desperation and integrity – was a success. And it became her trademark.