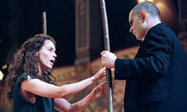 The Guardian (blog)
What can literature teach us about doing business better?

You won't find answers to these questions in sonnets or novels or essays on literary criticism. That is where the impact lobby go wrong.
No matter what processes, policies and structures businesses put in place, people remain complicated and unpredictable: we don't always get along; we have very diverse motivations; we find change painful and difficult; we don't always behave "rationally"; and we don't always do the right thing, even when we have every reason to do so. Much great literature captures this acutely and provides us with texts that challenge and lay bare the simplistic ways we can so easily go wrong when we think about it.