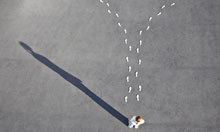 Tidy narrative closure may be entertaining, but loose ends and ambiguity offer a truer sense of real life...
I read Imogen Russell Williams's recent blogpost (Coming to bad ends: stories that refuse closure) with great interest. I do understand that she isn't proposing that novels without good and proper "endings" are in any way inferior to those that do, but something troubled me deeply about Williams's (and the vast reading public's, I would argue) desire for our narratives to reach closure.
The well-worn formula beginning/middle/end is the default mode for pretty much all of the commercial and "literary" novels that currently jostle for ascendancy on our bookshelves. We like our entertainment to make immediate sense, or if it doesn't at first, it should explain all at the end. Repeat ad infinitum. I would argue there is something crucial lacking in this formula: the power of ambiguity. Closure belittles the complexities of meaning: our meaning, our being here. So what does this desire for closure say about us as readers? Why are we so fearful of ambiguity? Why do we desire novels that, to paraphrase Alain Robbe-Grillet, do the "reading" for us?
Life isn't like the narratives that make up the majority of novels in circulation today, or like the well-rehearsed scenes we enjoy at the theatre, or in the movies. It's more complicated than that: steeped in confusion, dead ends, blank spaces and broken fragments. It's baffling at times, annoying and perpetually open-ended. We have no real way of predicting our future. So why do our novels have to tie all this stuff together, into a neatly packaged bundle of ready-made answers? Something doesn't ring true.