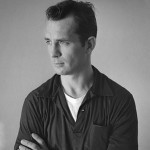 As "On the Road" prepares to hit the big screen, a writer reassesses the novel ...Salon
In December, a film adaption of Jack Kerouac's "On the Road" will hit theaters — featuring Viggo Mortensen, Kristen Stewart, Garrett Hedlund and Kirsten Dunst — providing two great literary opportunities: introducing Kerouac to a new audience, and reexamining the author's legacy in literature.
When "On the Road" was published by Viking in 1957, Jack Kerouac became an overnight sensation, a literary figure who was met with the kind of polarizing emotions of disdain and love that, today, one would have to look to sports to find the worthy contemporary comparison (i.e., LeBron James or Tim Tebow). His fame came, in part, from a New York Times book review by Gilbert Millstein, which hailed the book's publication as a "historic occasion." Millstein wrote, "in so far as the exposure of an authentic work of art is of any great moment in an age in which the attention is fragmented and the sensibilities are blunted by the superlatives of fashion." Millstein compared "On the Road" to Ernest Hemingway's "The Sun Also Rises," because both works introduced cultural movements: the Beat Generation and the Lost Generation.