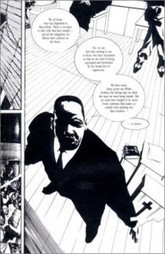 In this post, we take a closer look at King by Ho Che Anderson (Fantagraphics, 1993; reprint edition 2010). This highly acclaimed award-winning biography integrates interviews, narrative, sketches, illustrations, photographs and collages as it pieces together an honest look at the life, times, tragedies, and triumphs of Martin Luther King Jr. For King, Anderson won the Harvey Awards for Best New Talent (1991); Best Graphic Album (1993); and Parents' Choice Award (1995).
King was originally published in three volumes (1993-2002), went out of print in 2006, and was republished in a special edition in 2010. While very briefly introducing his father's influence upon him, King focuses most of its attention on King's adult path and his role in the civil rights movement... Aside from King's own personal life, we also learn of his relationship with his colleagues and communities and with politicians such as the Kennedys and Lyndon B. Johnson. We learn not only about what he did, but how he navigated through politics and social change.
Please visit this post at cbldf.org for more details on the book, for lesson and discussion suggestions, and for awesome additional resources on King and the Civil Rights Movement.