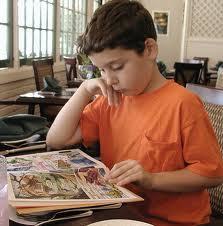 By Peter Gutierrez via The Alan Review
Thanks to the recent proliferation of professional development workshops and books on graphic literature, the question of whether the medium has a place in reading is no longer so controversial. Now conversations have shifted beyond the "engagement factor" and the "acceptance/rationale issue" and have started to focus on best practices and how to integrate comics, graphic novels, nonfiction, and manga into the ELA curriculum.
Here is an outstanding list of graphica that belong in classrooms along with teaching suggestions.