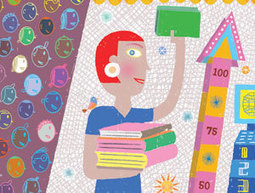 In a word, yes. In fact, they may be an administrator's most underutilized resource. Learn how schools are freeing them up to help students, faculty, and principals find the information they need.
The savviest districts and librarians are remaking the position, breaking media specialists out of the library and bringing them into the classroom to help with projects and research-basically, the same skills that used to be cultivated in the quiet of the library.

In fact, Cushing's library remains the most used space on campus, as students and faculty gather to learn together.
Via
Karen Bonanno