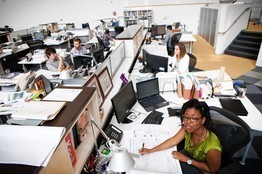 Do earbuds and noise-canceling headphones make workers in crowded offices more productive?
Marissa Yu works in a busy office, surrounded by 120 co-workers in a mostly open space. Yet when she has a question, needs an update or tries to reach some of her colleagues, she might as well talk to the wall.
"You call their name one, two, three, four times, and they're not responding," says Ms. Yu, director of interiors in Houston for PageSoutherlandPage, an architecture and engineering firm. "You dial their extension and they're not picking up. Pretty soon you're throwing rubber bands across the wall."