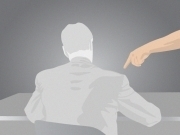 Sometimes a quick question can kill your creative flow. We look at recent research on the true impact of interruptions in the workplace.
You've come into the office ready to go - it's going to be a productive day. You're finally going to make some headway on that overdue blog post, or perhaps it's a new design layout, or a complex spreadsheet. Yet, as soon as you find your focus, a colleague wheels over a chair and interrupts your flow, asking for help. Sound like a familiar frustration?
That's the cost of modern open-plan offices – communication between workers is free and easy, but there's also infinite opportunity for distraction. Perhaps you've fantasised about taking over your boss's private cubicle, or maybe just pressing a mute button on the entire office. Just an hour or two of undisturbed peace.