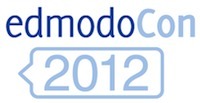 When I first shared Edmodo with classes, students thought I had magically bypassed the district's block on Facebook. I'm not quite that tech savvy or that well connected.
I am a big fan of Edmodo because of how similar it is to Facebook, even down to the color scheme. It's so easy to use and quick to learn that several teachers were using it the day after I introduced it to them. They could be presenters themselves now.
The ed tech buzz I hear predicts that Edmodo will surpass Moodle in a few years. Given its format, ease, and quick responses to queries, I agree that could happen.