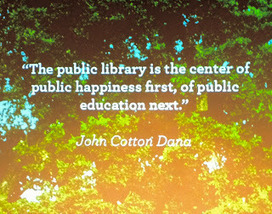 I was at the SLJ Public Library Leadership Think Tank last Friday, where Pam Sandlian Smith of the Anythink Libraries in Colorado was the keynote speaker. Her talk, titled "If Libraries were Tree Houses," contained many great sound bytes and ideas, but she shared one quote that resonated with me more than the others:
"The public library is the center of public happiness first, of public education next." -John Cotton Dana
Think about that statement for a moment. Is your library a happy place? Are customers happy when they are at the library? Are staff happy? Are you?