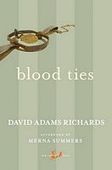 First aired on Mainstreet NS (13/03/13).
In a career that has spanned almost 40 years, David Adams Richards has published more than 20 books, from novels to non-fiction and essays. The award-winning author recently dropped by the Halifax studio of Mainstreet Nova Scotia. He was in town to give this year's Cyril Byrne lecture at St. Mary's University. The theme of Richards' lecture is his early years as a writer, and includes readings from Blood Ties, his second novel, which was published in 1976.
When asked why he wanted to revisit the early work, Richards told host Stephanie Domet that it was one of his favourite novels, and he still looks fondly on the characters.