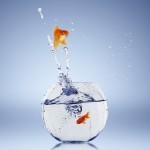 Hiring and retaining top talent is critical to every business' success.
"
The impact of poor leadership, communication
The fad of the new millennium is "employee engagement," though, maybe it shouldn't be. According to CBS Moneywatch, there is little cause-and-effect between "engagement" and employee retention.
In his August 2012 article, writer Steve Tobak argues that what really motivates employees to perform and display company loyalty is "empowerment." Key company leaders need to challenge employees to excel and provide the tools needed to succeed in order to retain top talent.
Studies have shown time and again that one of the biggest issues behind company retention is poor leadership and communication. Without a strong sense of mutual respect, the people you lead will always be looking for a way out."