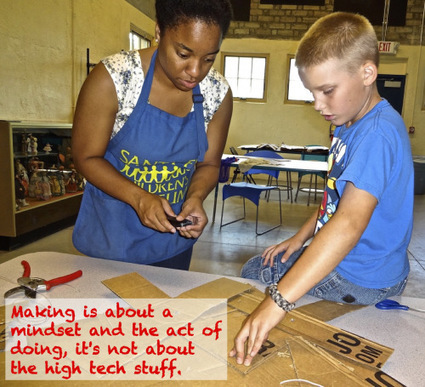 "The maker movement and maker education, in my perspective, are such great initiatives – really in line with what student-centric education should be in this era of formal and informal learning.

Maker education (often referred to as "Maker Ed") is a new school of educational thought [at least in terms of having an "official" educational label – JG] that focuses on delivering constructivist, project-based learning curriculum and instructional units to students. Maker education spaces can be as large as full high school workshops with high-tech tools, or as small and low-tech as one corner of an elementary classroom. A makerspace isn't just about the tools and equipment, but the sort of learning experience the space provides to students who are making projects. (9 Maker Projects for Beginner Maker Ed Teachers)

Social media has helped me gain a more global perspective and become aware of some of the problems associated with the maker movement. The two I discuss in this post are:

1. Maker movement initiatives are often driven by more affluent white males.

2. The maker movement is too often being associated with the tech stuff – Arduinos, Littlebits, Makey-Makeys – stuff that less affluent schools and community programs can afford."
Via
John Evans