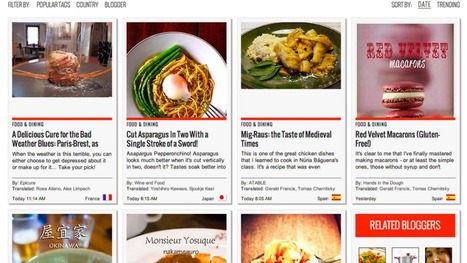 Excerpted from review article by Mashable:
"Webflakes curates and translates travel and lifestyle content from bloggers around the world.
Webflakes aims to break down the language barrier between bloggers in different countries to create a single hub for discovering international lifestyle content.
If you really want to know more about French fashion or Italian cuisine, the best place to turn may be bloggers from those countries.
Webflakes, a website that launched earlier this month, curates posts from dozens of bloggers in countries like Japan, France and Italy and relies on a team of of volunteers to translate them.
On Webflakes, you'll find blog posts on fashion, travel, food and more, which you can then sort by country and blogger. When you click on a post, you'll find a link to more information about the blogger. In this way, Webflakes helps readers find more quality content and helps international bloggers build more of an audience..."
Read full original article:
http://mashable.com/2013/05/29/webflakes
Try out it: http://webflakes.com
Via
Giuseppe Mauriello