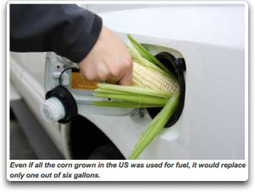 From the department of "told you so" comes this about-face on what was supposed to be an environmental solution. It seems the cure is worse than the disease:
"CORYDON, Iowa — The hills of southern Iowa bear the scars of America's push for green energy: The brown gashes where rain has washed away the soil. The polluted streams that dump fertilizer into the water supply."
"Even the cemetery that disappeared like an apparition into a cornfield.
It wasn't supposed to be this way.