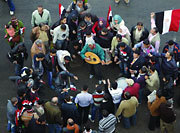 How well can a revolution survive the language barrier?
A one-day symposium convened last week at the American University in Cairo (AUC) was aimed at discovering yet more dimensions to the 25 January Revolution and examining the challenges it poses to translation techniques.

The agenda at the symposium was a discussion of research and translation studies conducted at a spring semester entitled "Translating revolution".