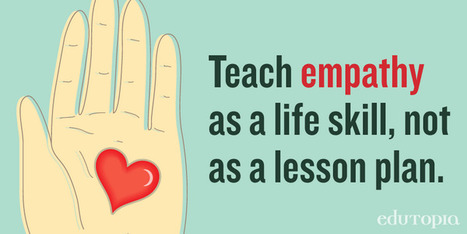 Empowering and connecting teachers, administrators, and parents with innovative solutions and resources to better education.
Search on empathy
Resources for Learning About Empathy on Valentine's DayTeaching Empathy: Turning a Lesson Plan into a Life SkillHow Reading Literature Cultivates EmpathyUsing Theatre and Drama to Increase Empathy in StudentsEmpathy: The Most Important Back-to-School SupplyFive-Minute Film Festival: Videos on Kindness, Empathy, and ConnectionBuilding Social and Emotional Skills in Elementary Students: EmpathyEmpowering Students Through Empathy and CollaborationReport from Educon 2.5: Empathy, Relationships and EntrepreneurshipTeaching Students to Turn Empathy into ActionThe Importance of Teaching EmpathyMiddle School – An Important Time To Teach Empathy and CompassionA+ for Empathy: Districtwide Social and Emotional LearningRestorative Justice
The Importance of Teaching Empathy
====================
It is said that empathy is an important tool
that children must be taught.
It allows us to better understand
another person and to be able
identify oneself with another.
============
Via
Edwin Rutsch