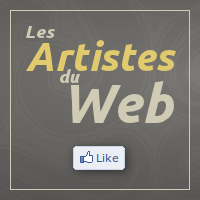 Les ARTISTES du WEB has been founded in december 2010 by Tanguy Mignot to share exciting artists from around the internet. It consist of a mix of various talents and by this is a kind of volunteer Artist's curation.
The main idea is to use blogs and social places to spread the talent of the artists. Each ARTISTES du WEB's place show a work from the artist's portofolio and link it to the official webplace of the artist. A Facebook page is used to share and talk about it.
As we all have our favorite place on the internet, I decided to "duplicate" the site on various media. So you can follow the Artists on Posterous, Tumblr, Wordpress, RSS, Pinterest, Fancy.it, Scoop.it, Weheartit, Twitter, Google+, Facebook, Linkedin...
tanguy
* All images used with permission from artists. Please do not distribute without first contacting the artist.