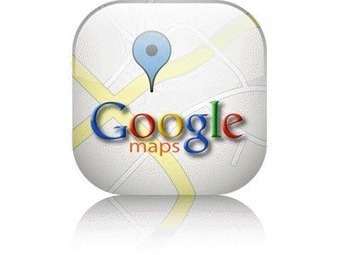 Google-Maps biedt de mogelijkheid om online landkaarten een persoonlijk tintje te geven.
Zo kunnen op kaarten van Google-Maps routes worden ingetekend en belangrijke punten van een marker (= markeringspunt) worden voorzien.
Een marker kan zo worden ingesteld dat bij een klik op die marker teksten, foto's en links naar bijvoorbeeld websites en filmpjes kunnen worden opgeroepen.
Kaarten die met Google-Maps zijn gemaakt krijgen een eigen internetadres en kunnen door verspreiding van dat adres via bijvoorbeeld mail, Twitter, Facebook, Hyves, weblog of website met
anderen worden gedeeld.
Ook is het mogelijk om zelfgemaakte kaarten te embedden op eigen website of weblog.
Gebruik van Google-Maps is gratis; wel moet er een account worden aangevraagd.
Worden er speurtochten, zoektochten, wandeltochten, fietstochten, schoolreizen
e.d. georganiseerd, dan biedt Google-Maps geweldige mogelijkheden om de routes
online vast te leggen en waar nodig te voorzien van tekst en/of beeldinformatie en/of koppelingen naar filmpjes en websites.
De kaarten kunnen worden opgeroepen op laptops en pc's, maar ook op smartphones en tablets, mits zij met internet zijn verbonden.
Via
Herman van Schie
,
André Manssen