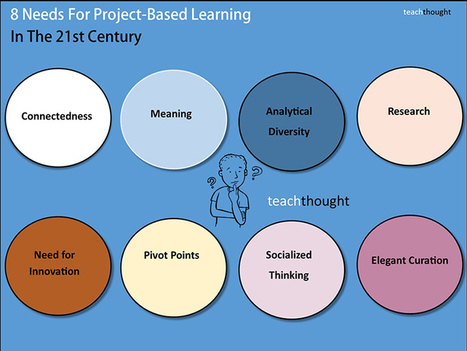 We recently offered a definition of project-based learning, and looked at keys to designing Project-Based Learning. We also have looked at the difference between "doing projects" and project-based learning, various project-based learning resources, project-based learning apps, and offered ways for using an iPad in Project-Based Learning.
And have shared some practical ideas for better teaching through project-based learning as well.
What might be missing from these posts, however, are simply the characteristics of project-based learning in the 21st century. What does it look like? What might be evidence that it's happening consistently? What needs to be built into every project–or the design of the requisite curriculum–so that students can shift from a mere "project" to a thoroughly modern learning experiences that runs parallel with the connected world they live in?
We tend to think of project-based learning as focused on research, planning problem-solving, authenticity, and inquiry. Further, collaboration, resourcefulness, and networking matter too–dozens of characteristics "fit" into project-based learning. Its popularity comes from, among other characteristics, its general flexibility as a curriculum framework. You can do, teach, assess, and connect almost anything within the context of a well-designed project.
But what if we had to settle on a handful (or two) of itemized characteristics for modern, connected, possibly place-based, and often digital project-based learning? Well, then the following might be useful.
Via
Edumorfosis